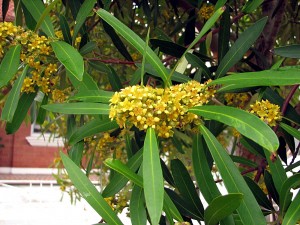 Special price for 2018
3oomm Tristania or Tristaniopsis laurina – "Water Gums" are now $30.00 each or $25.00 if you are purchasing more than 50 units.
The Water Gum is a tree to 15-20 metres in its original habitat but is much smaller in cultivation – as little as 4 metres (due mainly to the tree being in full sun, when it is usually competing in an existing canopy situation hence the larger size).
It has solid green, lance-shaped leaves to around 10 cm in length. In colder areas, some of the leaves turn reddish in winter.
The treee is covered with bright yellow flowers in summer and each flower has five petals. This is a real feature of this tree, along with its hardy and adaptable qualities.
The species is successful in a wide range of soils including sandy loams as well as heavier types provided drainage is reasonable. It is a good species for growing in a lawn and it appreciates extra water during dry periods. T.laurina is also successful in most climates except very dry inland areas. The plant is an ideal tree for smaller gardens.
This tree is also excellent for street trees, as an avenue tree, or as a shade tree, as it grows quite quickly.
Do not be misled by the name 'water gum' as this tree can survive periods of time in drought situations, and is very hardy.
other plants available in 300mm include – Alloxylon flammeum, Finger Limes (Citrus australasica), Banksia spinulosa (Coastal Cushion), Micromyrtus ciliatus, Doryanthus excelsus.