Hymensporum flavum or "Native Fragipani" is a strongly aromatic plant which can grow to 15 metres, and flowers in summer.
The yellow flowers are roughly 4cm in length.
This tree is evergreen and can withstand long periods of drought and wet once established.
The tree can also handle foot traffic and really tough full sun conditions in most soil types.
Hymenosporum can be a focal tree or be used as a screen tree at least 3 metres apart. Remnant vegetation still exists on the Central Coast of NSW.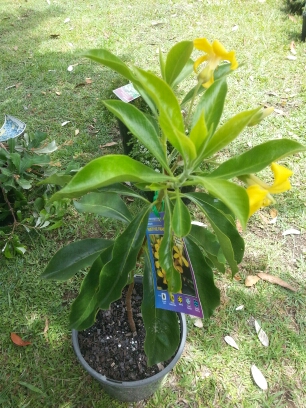 Backhousia mytifolia or "Cinnamon or Grey Myrtle" is a local Central Coast shrub that flowers profusely around Christmas. Its height varies on its position. In shady spots the shrub can grow up to 8 metres, but in semi shade will grow on average to 4 metres. The small creamy flowers is not scented but attracts lots of bees and butterflies. This small tree/ shrub prefers semi shaded spots with regular watering for optimal health. Can handle all soil types, just ensure that organic matter is added to sandy soils. The tree is known to have very hard timber used for numerous purposes.
The leaves have an aromatic smell and are perfect companion with the lemon myrtle ( Backhousia citriodora) for teas.
Great plant for screening as it has a dense foliage.